IF OUR SEAFOOD WAS ANY FRESHER, IT WOULD STILL BE SWIMMING
Click Here to Order Online Now
for quick and easy curbside pick-up of all your favorite Bluewater Seafood dishes!
Welcome to Bluewater Seafood
We're Open
for Dine In &
Curbside Pickup!
Learn More About Dining In>>
Fresh Seafood!
Boiled, Grilled or Fried!
Crawfish, Shrimp, Oyster,
Seafood Platters & more!

Bluewater Seafood Fans
We are excited to see everyone and to be able to serve the community starting this Friday, May 1st for lunch. If you are planning to dine in with us you should be aware that:
All Restaurant Customers must adhere to Texas Health and Human Services Checklist
Our dine in service will open on a first come first serve basis
Customers are to check in at the host stand to be seated. The host will maintain our 25% occupancy level. In the event the location goes on a wait, your number will be taken and you will have the option to wait outside at a social distance or wait in your car and you will receive a text when your table is ready
No parties greater than 6 will be allowed at one table
Our restaurant seating has been rearranged to comply with the 6ft separation standard
Out team, "Team Blue" will be wearing face coverings and gloves to promote a safe environment
Menus are printed on paper and will be used for single use and disposed of
Your meal will be served 100% with disposable materials (Plate, cup, knife, fork and spoon). All condiments will be delivered in single serve portions
We are grateful to have this opportunity to open to the public. Our ultimate goal is to operate as safely as possible to keep our employees and guest healthy. Our only request is to please be patient, this is all as new to us as it is to you. We love what we do and will be doing our best to deliver an outstanding meal in a reasonable time. Thanks again for your understanding and support.
Voted Best of Cy-Fair 2014-2015, 2017-2018 and Best of Spring & Champions 2017-2018!
Bluewater Seafood is known for having the freshest seafood around. Our motto is "if our seafood was any fresher, it would still be swimming"! We pride ourselves on finding the freshest seafood and preparing it in flavorful ways to provide you with a great seafood experience, each and every day.

View Full Menu
Bluewater Weekly Specials
MONDAYS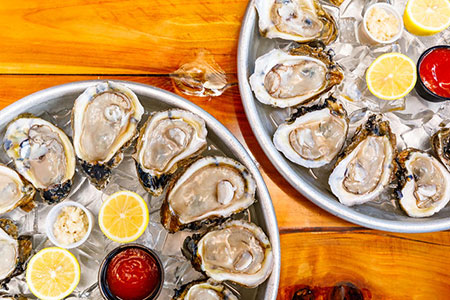 Raw Oysters on the Half Shell
$1.00 off per Dozen
TUESDAYS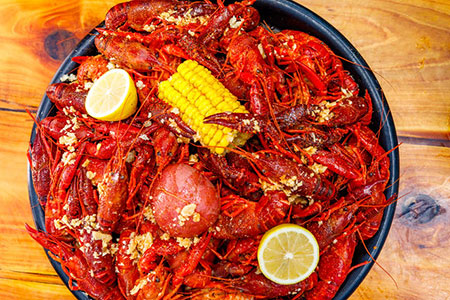 Boiled Crawfish
Buy 4lbs, get 1lb Free
* in Season
WEDNESDAYS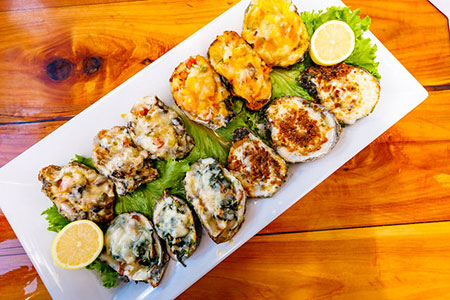 Roasted Oysters
Choose from Garlic Butter, Amigos, Oysters Bluewater, Bluerockers, Oysters Americano and Crabmeat Parmesan.
THURSDAYS
Fried Catfish
All you can eat!
Whether you need catering for your next party or you would like to host a party in-house at one of our fine locations, Bluewater Seafood is ready for all of your party needs. We take the headaches out of having a party with fresh and tasty seafood everyone will enjoy. Visit our dedicated party page to see the benefits of hosting a party with us and contact us today!


Bluewater Parties
Just grab our downloadable menu for your preferred location and download the DoorDash app below. Delivery made simple!
We also offer take-out of all of your favorites at Bluewater Seafood.

Download Menus