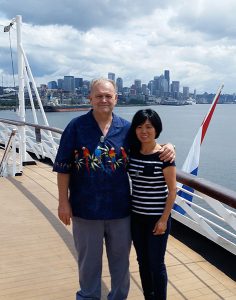 In 1996 Brad and Ping Aplin opened their first restaurant, BlueWater Seafood. They are both very familiar with the commercial seafood industry and their slogan has always been "If our seafood was any fresher, it would still be swimming!"
Brad, a 3rd generation commercial fisherman, has done it all from oystering, to shrimping, and crabbing. He knows how to get the best seafood (most from local family members), and he knows how to keep it all fresh. Their love of food, friends and family has given them a strong foundation to build on.
We know how important it is that each of our customers receives the best service along with the finest in fresh seafood. Brad and Ping, along with the Bluewater team and the rest of the family are putting in the time and effort to help grow the business.
Please come on by and join the Food, Fun and Excitement!